Franco Harris
Use these links to go to the information you are looking for, or just scroll down the page.

Franco Harris is considered by many to be one of the best running backs in the history of the NFL.
Franco was born on March 7th, 1950. During his youth, he lived in Mt. Holly, New Jersey, where he played football. He was a high school All-American at Rancocas Valley Regional, which is in Mt. Holly.
College
He went to college at Penn State University in University Park, Pennsylvania, where he majored in Hotel and Restaurant Management. He was a three-year letterman for football. He gained a total of 2,002 yards rushing on 380 attempts for an average of 5.3 yards per game. He also rushed for 24 touchdowns. He played in the 1970 Orange Bowl and the 1972 Cotton Bowl. He scored two touchdowns in the Senior Bowl and also played in the College All-Star Game. He played football in college from 1969 to 1971.
Pro Career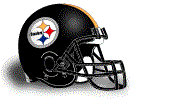 In 1972, he was the first-round draft pick of the Pittsburgh Steelers. Overall, he was the 13th person drafted. In his opening year, he played in 14 games, rushed for 1,055 yards on 188 attempts for an average of 5.6 yards per carry, rushed for ten touchdowns, caught 21 passes for 180 yards and an average of 8.6 yards per catch, and caught one touchdown. He played for the Steelers from 1972 through 1983. In 1984, he went to the Seattle Seahawks, where he played his last NFL season. His career totals are: 12,120 yards rushing on 2,949 attempts for an average of 4.1 yards per carry, 91 rushing touchdowns, 2,287 yards receiving on 307 receptions for an average of 7.4 yards per carry, and caught 9 touchdowns for a total of 100 career touchdowns. He was elected to nine Pro Bowls. He carried for more than 1,000 yards in a season eight times. He rushed in 47 games where he ran for more than 100 yards. He was Pittsburgh's main running back when they won four Super Bowl titles in the 1970's. He was named Super Bowl MVP in 1975. He was listed at 6' 2" and weighed 230 pounds. He wore number 32. He was inducted to the NFL Pro Football Hall of Fame in 1990. Former Steeler and teammate, Lynn Swann, presented the trophy to him.
Immaculate Reception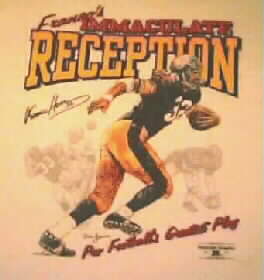 Franco is perhaps best known for the "Immaculate Reception", a 60 yard reception in the final five seconds of the game that gave Pittsburgh a victory over the Oakland Raiders in a first-round playoff game in 1972. Franco states, "Going into the huddle, my thought was 'this is going to be the last play of my rookie year.' I was going to play hard to the end, savor every moment. A pass play was called and my job was to stay in the backfield and help block. When the pass protection broke down and Brad started to scramble, I decided to go out on a pattern as a safety measure. Brad threw downfield to Frenchy Fuqua. Seeing this, I headed in the direction of the pass, thinking I could throw a block, recover a fumble or do something to help out. Before I knew it, the ball was coming back to me."
Assorted Information
There is a book about Franco. It is called "Franco Harris" which is written by Don Kowet. Coward, McCann & Geoghegan publish it. The ISBN is 0698107780. It was published in 1977. It is 178 pages long and costs $7.95.
Franco appeared in a television show in 1988. It is called "Monsters." "Monsters" is a television series that appears on the Sci-Fi Channel. The episode is called "Where is the Rest of Me."
Franco was featured in a motivational tape in 1974. The tape was called "Run to Win." American Sportmasters Inc produced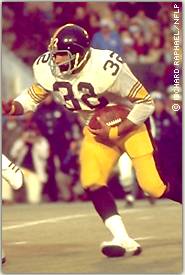 it.
Franco appeared on at least four magazine covers. He appeared on Sports Illustrated (Jan. 12th, 1976 and Nov. 5th, 1979), Football Digest (Oct. 1984), and Winning (Jan./Feb. 1994).
Disclamer
All information, descriptions, and pictures on this site are the property of other sites. I do not plan to profit from this site or the use of it. Any information, descriptions, and photos taken from this site are the property of the below sites and many others.
More Information
For more detailed information on Franco, visit these sites on the web.
I also got information from the '95 Almanac on the CD "Microsoft Bookshelf '95."
Give me your comments. Please E-Mail me at dukefi@hotmail.com.
Click here to go back to my main page.